Sylviana Hamdani (Jakarta Post)
Jakarta ●
Thu 12 May 2022

2022-05-12
14:00
0
128cd67a58d1be3381e8327580f76973
1
Entertainment
vertical films,film festival,short film,instagram,instagram-reels,social media
Free

With fresh ideas and a more down-to-earth approach, vertical shorts are getting their message out to wider audiences on social platforms, as evidenced by the winning films of the MIFF Vertical Film Competition.
The film captures realities and presents them to many viewers in a whole new light. Vertical films, shot for viewing in portrait mode on social media platforms, often do the job more effectively in the internet age.
Madani International Film Festival (MIFF), in collaboration with publisher Bentang Pustaka, Indonesia IATSS Forum Alumni (IIFA) and Kineforum-Jakarta Arts Council (DKJ), organized Kompetisi Film Vertikal (Vertical Film Competition) of December 2021 to March 2022, with the theme "Relaksasi Beragama (Relax, it's just religion)".
"The competition carries the spirit of anti-radicalism and encourages not only inter-religious tolerance, but also peaceful co-existence within our diverse society," MIFF Board Member Ekky Imanjaya said during the event. a press conference held on April 26 to announce the winners of the contest.
The winners each receive a cash prize from a pool totaling Rs 24 million and selected books from DKJ.
For the competition, young Indonesian filmmakers were invited to read collections of short stories by Feby Indirani, Bukan Perawan Maria (Not a Virgin Mary, 2017) and Memberu Mohammad (Hunting for Muhammad, 2020), and create a story-inspired 5-minute vertical film.
From the 17 entries submitted, the judges, artist Inaya Wahid, award-winning filmmaker Garin Nugroho and CEO of Bentang Pustaka, Salman Faridi, selected four winners who had produced quality vertical films on the theme of the contest of religiosity relaxing.
"They are the filmmakers of the future," Salman said.
"Their works present interesting critiques of religiosity in present-day Indonesia," he said, while emphasizing, "No follower of any religion in Indonesia should be above criticism."
Winning films can be viewed on Instagram Reels @bentangpustaka and @relaxitsjustreligion, and are indeed interesting to watch. Some are heartbreaking, while others are funny and entertaining. All are thought-provoking and encourage viewers to look at religiosity from entirely different angles.
"There is a rich variety of storytelling in these films," Garin Nugroho said at the press conference. "Each of these films effectively communicates the values ​​of Feby's books to audiences through beautiful imagery, dialogue, and music."
The films will also be screened at the upcoming MIFF International Film Festival, to be held in Jakarta in October.
[Note: Spoilers ahead]
1st place: 'Sepotong Cokelat Untukmu (A chocolate bar for you)' by Kincir Angin Lab
The film opens with a young woman who appears to meet a friend she calls Jenn in a park. Upon seeing her friend, the woman profusely apologizes for being late and gives Jenn a chocolate bar as a sign of remorse. The camera then slowly moves from where the young woman is seated to show the ground of an empty cemetery around her. The rustling of trees in the wind makes the scene even more disturbing.
It turns out that Jenn is dead and buried in the cemetery. Jenn's family, who never approved of her decision to become a trans woman, had her buried as a man with her male birth name inscribed on the headstone.
"In the film, we express our concern for people who are discriminated against for their life choices that really don't affect anyone else," said Iradat Ungkai Megah, co-founder of Yogyakarta-based production house Kincir Angin Lab. , during a phone call. Interview on April 29.
Hail Humanity: A still image of Awang. Co-founder Yusril Ihza of Kaki Langit Production and producer of Awang states that the film's message to viewers is to "always place humanity above religion". (Courtesy of Kaki Langit Production) (Courtesy of Kaki Langit Production/Courtesy of Kaki Langit Production)
Ungkai was inspired by Feby's short story "Sore Yang Menggemparkan" (A Shocking Afternoon), as well as the recent death of famous trans woman Dorce Gamalama which led to heated internet debate over the proper burial for her, depending on her religion.
Ungkai and his colleagues shot the film in a cemetery in Yogyakarta using a Sony A6300 camera loaned by a friend.
"I hope no one will ever be judged on their gender and life choices in Indonesia ever again," the 27-year-old filmmaker said.
2nd place: 'Awang' by Kaki Langit Production
Each religion claims to lead its followers to an afterlife in paradise. But when we get there, what version of heaven will we find?
This haunting question echoes throughout Awang by Kaki Langit Production, a theater group and production house based in Surabaya.
The film revolves around Tin, a Muslim woman who converts to Christianity so she can marry Har, in accordance with Indonesian same-sex marriage law. The woman dies shortly after giving birth to Awang, leaving the baby in the care of her mother. The young boy is raised as a Muslim, but wears a rosary around his neck whenever he misses his father.
Unfortunately, Awang does not live long. After his death, the boy's grandmother and father both attempt to claim his body, seeking to bury him according to their different faiths.
Filmed in Javanese with a heavy Surabayan accent, adds impact to the moving scenes.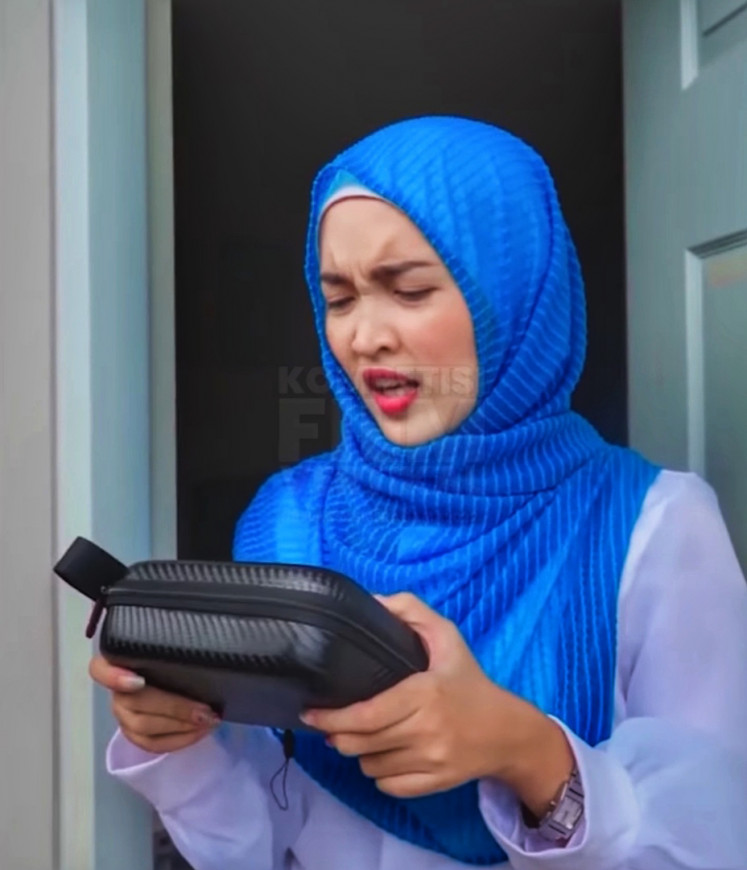 People Matter: 'Pertanyaan Malaikat' won the Jury Prize at the Madani International Film Festival (MIFF) Vertical Film Competition. The film tells the story of Umi, an overly devout Muslim woman, in a humorous way that takes nothing away from the seriousness of its underlying message. (Courtesy of Ilham Imanuddin) (Courtesy of Ilham Imanuddin/Courtesy of Ilham Imanuddin)
"We were inspired by Feby's short story, 'Berebut Jenazah' (Fighting for the Body)," Yusril Ihza FA, Co-Founder of Kaki Langit Production and Awang producer, said in an April 29 phone interview.
Shot on a Sony A6000 in an old rented house in Bangkingan, Surabaya, Yusril and his colleagues took more than two months to develop the script and plan the production.
"The message of our film is simple and clear," said Yusril, who is currently pursuing a master's degree in literature at Gadjah Mada University. "In any conflict, we must always place humanity above religion."
Jury's Choice: 'Pertanyaan Malaikat' (The Question of Angels) by Ilham Imanuddin
A content producer at a state-owned company in Gresik, East Java, Ilham Imanuddin became interested in joining the vertical film contest after reading about it on social media.
"I've entered many other video contests before, but this one was much more difficult because it addresses the issues of religion in our society today," the 24-year-old filmmaker said.
His film was inspired by the short story of the same name by Feby from Bukan Perawan Mariaand was photographed with his iPhone 11Pro.
It depicts a devout Muslim woman named Umi who prays and recites the Quran every day. She also learns Arabic and decides to speak only in this language, believing that Arabic will be used in the afterlife.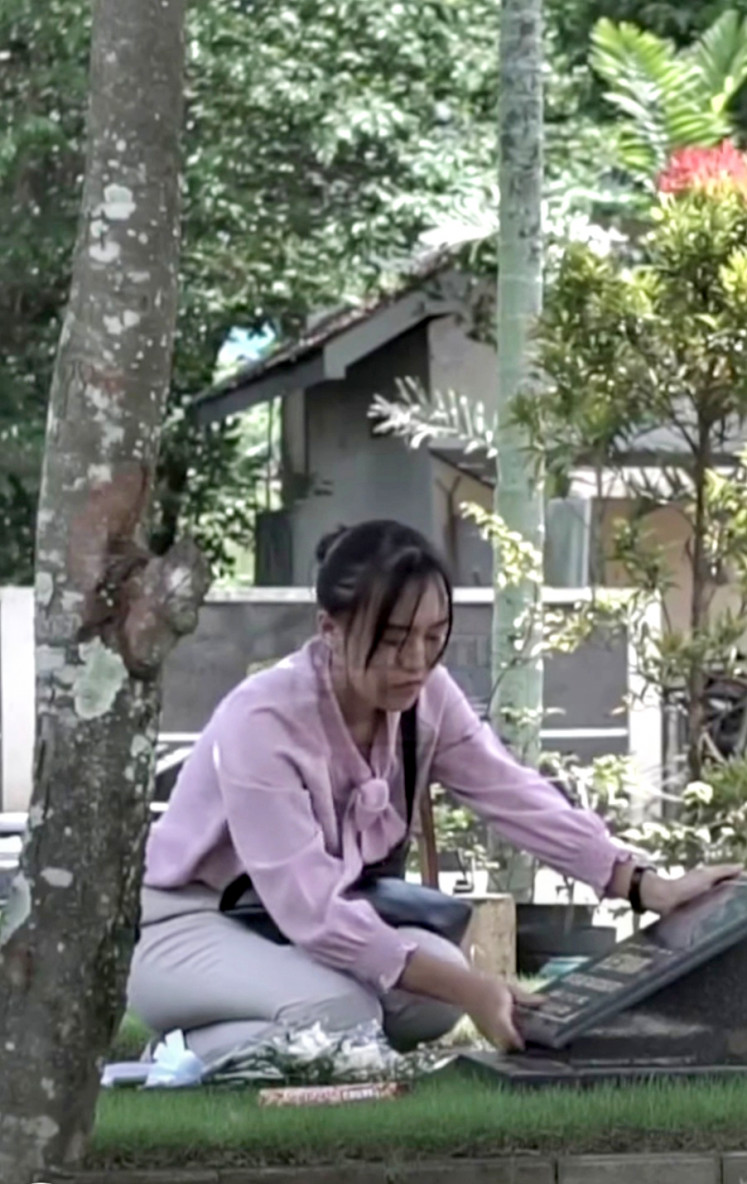 Requiem: The film that won first place in the Madani International Film Festival (MIFF) vertical film competition, "Sepotong Cokelat Untukmu" (A chocolate bar for you) by Kincir Angin Lab, discusses the recent debate on social media regarding the proper burial for a famous trans woman. (Courtesy of Kincir Angin Lab) (Courtesy of Kincir Angin Lab/Courtesy of Kincir Angin Lab)
Umi then has a heart attack and meets the angels who, to her surprise, actually speak the local version of Javanese and ask her if she is neglecting the people around her.
The film's rather serious tone is lightened by Umi's maid telling the story with a heavy Javanese accent, as well as the film's comedic soundtrack.
"Religion is private," said. Ilham "Everyone has the right to their own belief. In society, we should instead focus on social issues and innovations that bring us together.
Viewers' favourite: "Memburu Muhammad" (Hunt for Muhammad) by Akar Film
Produced by students majoring in film and television production at ARS University in Bandung, West Java, received 289 votes on Bentang Pustaka's Instagram account, beating all other entries.
"Our teacher challenged us to enter the film contest for our final assignment this semester," Rizal Pamungkas, now in sixth semester, said in an April 30 phone interview.
After reading Feby's collection of short stories Memberu MohammadRizal and his classmates decided to create a movie based on the main story.
"[Religion] in Indonesia has become too sensitive lately," the 24-year-old producer said. "People easily senggol bacok[overreact and get angry] when we talk about religion. So we decided to address this issue.
The film opens with a woman saying that a man named Muhammad got her pregnant. Her furious brother and other village men set out into the dark night to search for the suspected culprit, the yellow light from their flashlights casting an eerie glow on their angry faces.
"The scene was also inspired by Joko Anwar's horror film Pengabdi Setan [Satan's Slave, 2017]", explained Rizal.
Rizal and his classmates took more than a month to plan the production, which was shot with a Sony A7 Mark II in a village in Jatinangor district on the outskirts of Bandung.
Rizal was happy that the viewers liked their work and the class got an A for their final assignment.
"We really hope that the religious situation in Indonesia can become calm again, as it was before," he said. "And [that] people will stop thinking that they are the fairest and will respect the beliefs of others.