Fine writing makes for brilliant performances across the board, including Worthington and a deeply unsettling Rory Culkin as Brother Lafferty Samuel. A must.
Lunar Haven ★★★
AMC+, from July 7
Well, the future took a strange turn. It seems we've decided that the best way to deal with our impending environmental catastrophe and other problems is to send an artificial intelligence to the moon to devise solutions. This AI would be supported by settlers who would terraform part of the surface into a leafy forest idyll. The colonists' descendants would live like hobbits in a cult-like hippie society, isolated from the inhabitants of Earth, whom they would study from afar like insects.
Now, a century later, AI has it all figured out and it's time to provide all the answers to Earth. The problem is, there's been a murder and the Lunar Detectives (Dominic Monaghan and Kadeem Hardison) aren't good at investigating crimes because they never really have any. A spiky Earth freighter pilot (Emma McDonald) soon gets caught in the middle, and it seems some interests might not want Earth fixed.
Series creator and showrunner Peter Ocko's world-building is fascinating, as is Monaghan's most unusual character. The thriller element isn't immediately thrilling.
Naked Tuesday
Stan, from July 7*
It's crazy and it works: a comedy in which the actors speak complete gibberish, with different comedians writing different subtitles to create different movies. Damon Herriman and Jackie van Beek are an unhappy couple who go on a group retreat with a sex guru played by Jemaine Clement. The evil British Julia Davis comes out strong with subtitles focusing on the trouser zone; Celia Pacquola and Ronny Chieng have a different approach and a different ending. There is also a version without subtitles to improvise with family or friends.
The secrets she keeps
Paramount+, new season from Tuesday July 12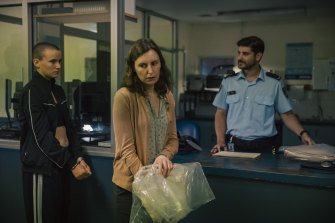 The acclaimed Australian psychological thriller series returns with Jessica De Gouw and Downton Abbey's Laura Carmichael in great shape. This second season, however, is not initially as assured as the first. It's a little Wentworth, with baby thief Agatha (Carmichael) in prison. Meghan (De Gouw) has found her child but is harassed by a student podcaster (Miranda Frangou) who seems just as sociopathic as Agatha. Michael Dorman leaves a big hole, but Todd Lasance does a great job reprising the role of Meghan's husband Jack.
The Lazarus Project
Stan
This clever and imaginative sci-fi thriller series is distinguished by complex, believable characters and touches of casual, understated humor that naturally emerge from them. It's a new version of the old one groundhog day thing. British app developer George (Paapa Essiedu) finds himself caught in a six-month time loop. He is soon recruited into a secret team that uses a space-time quirk to revert the entire planet to a previous "save point" whenever there is a civilization-ending plague or nuclear war. People are imperfect, however.
pretend web
netflix
The internet has opened up many new avenues of human horror. Take the practice of swatting – using untraceable phone call technology to trick heavily armed police into breaking down the doors of people who irritate you online. This hugely compelling American documentary series begins with the story of an unsuspecting man's fatal runover in Wichita, Kansas. Other episodes expose such things as the workings of white supremacist communities online and the extortion of women and girls tricked into giving criminals nude photos of themselves.
* Stan belongs to Nine, the owner of this masthead.
Discover the next TV series, streaming and movies to add to your must-haves. Get Watchlist delivered every Thursday.